Office Cleaning Services in Reading
If you are looking for professional office cleaning services in Reading, then look no further. JC Clean is dedicated to the quality of service and reliability. By maintaining a clean office you are not only making a healthy atmosphere you are improving the productivity of your employees. As every single individual in the firm is occupied doing their own work, there is no time for them to retain their workplace clean.
No matter of size, JC Clean understands the importance of having a neat and clean place of work. As a customer, you have to pick the correct cleaning company to meet your requirements. You are at the right place. Find out why:
   We have highly trained office cleaners that use various tools and equipment to keep your place of work free of dust.
   They are skilled in cleaning all sizes of headquarters and, between them, hold many years of experience.
   We will discuss your requirements with you and then prepare a free specification.
   We aim to provide our clients with cost-effective and competitive cleaning prices. We believe we give good value for money.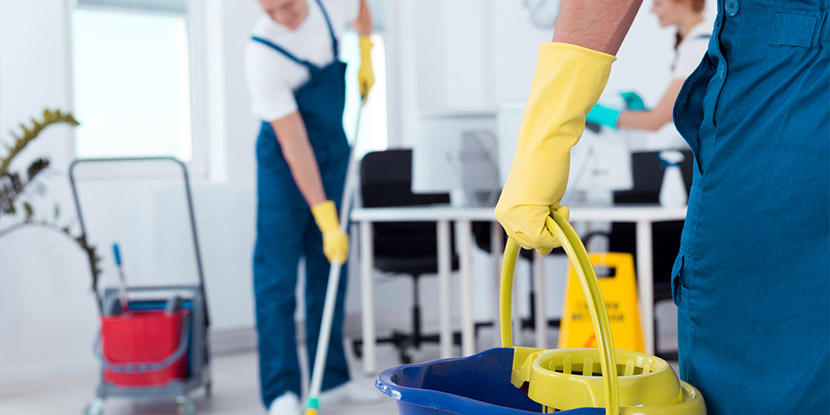 Our organization can make sure that your work atmosphere is a clean spot to work. This in turn will surge the efficiency and presentation of the workers within your firm. Then there is an issue of dirt incoming into the PC systems which can affect and harm them. It is a necessity as a client you to choose the exact cleaning companies for your cleaning requirements.
Frequently Asked Questions
Will I have the same cleaner(s) every time?
We aim to allocate the same person to come for all your cleaning sessions. In case anything changes, for example, somebody falls sick, goes on a holiday or their personal circumstances change, we will inform you in advance.
Do I need to provide the cleaner with cleaning supplies?
We do supply all cleaning materials and products for office cleaning.
Can you clean a small office?
We welcome customers regardless of their size. We will be happy to help to arrange a weekly or daily office cleaning service even for smaller offices. Our services are always subject to availability, however, our friendly customer service team can check and let you know when they process your inquiry.
Can you provide a VAT invoice for office cleaning services?
Certainly, we can provide a weekly or monthly VAT invoice depending on how often you pay. These can be emailed to you automatically if you pay by Direct Debit. All pricing offers we make are exclusive of VAT.