End of Tenancy Cleaning Reading
Whether you're a landlord or a tenant, when a tenancy comes to an end you want to be sure the property will pass its final inspection with flying colors when you hand over the keys.
Don't waste your time and money with unreliable cleaning companies. At JC Clean, our end of tenancy cleaning service in Reading for residential and commercial property is superior in every way – efficient, professional, friendly, and contemporary.
Our company is well-established in the cleaning industry; we have a huge number of clients who are very familiar with our amazing results. Being in this business for more than three-decade now, we know by heart the needs and requirements of landlords and tenants when it comes to the end of tenancy cleaning.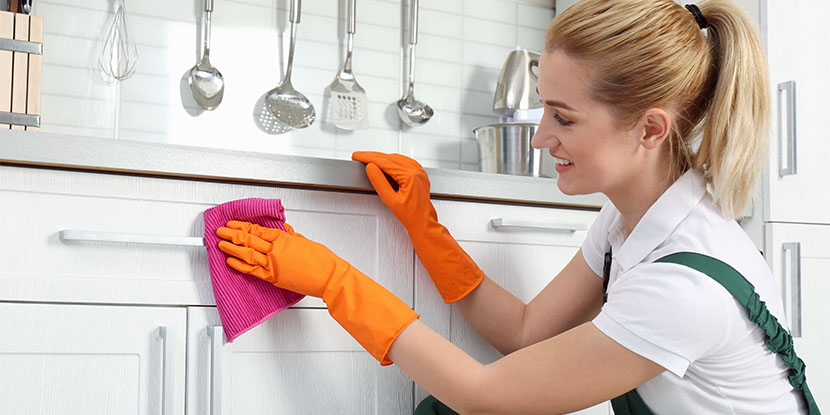 Add Sanitisation to Your Tenancy Cleaning
To ensure the safety of the next tenants, you can add sanitising to your service. The cleaners will focus on the most highly touched areas sanitise them with special detergents to ensure there is no risk of contamination.On the other hand, if you are worried about viral infection, then you can resort to our highly effective Antiviral Sanitisation service. It is done with professional equipment that spreads a CERTIFIED virucide that has been lab-tested and proven to eliminate 99,999% of germs on surfaces.
Pre/Post Tenancy Cleaning Service for Tenants
As a tenant, your deposit is at risk if you leave a property in a poor state, so hiring a professional cleaning company with a reputation for reliability and for achieving consistently high standards gives you the peace of mind of knowing there should be no nasty surprises when you give the property back to your landlord.
You can arrange your clean with us as soon as you know the date you'll be leaving the property. All you need to do is ensure all your personal belongings have been removed before we arrive – and we'll do the rest.
If you're due to move into rented accommodation, we can give you the best possible start in your new home with the same superb service that our end-of-tenancy clients can expect.
And because we have many years of experience in the rental sector, we are exceptionally efficient. We don't just clean the areas you can see – our comprehensive cleaning service also tackles the areas that are hidden from view, making sure the property is clean to both the eye and touch.
For Landlords & Agencies
We know that as a landlord, your property is also your livelihood and so our aim is to make sure you can put your flat or house back on the market as fast as possible once your existing tenants have moved out – saving you both time and money.
At JC Clean we believe it's possible to provide an exceptional standard of cleaning without compromising our passion for the environment. Our end of tenancy cleaners are extensively trained and wherever possible use environmentally-friendly products that achieve outstanding results.
Our end of tenancy cleaning service in Reading is tailored to your needs. It begins with a full inspection of the property and a basic sweep clean that allows us to assess any damage and, if necessary, make a repair plan to bring the property back to its original condition.
At JC Clean We Must Ensure
   Thoroughly clean all surfaces, including floors and tiles
   Bring windows back to their smear-free best.
   Thoroughly clean kitchen appliances. Please note professional oven cleaning is not included but can be added as an additional service.
   Restore your white goods and other appliances to a presentable condition.
   We provide our own cleaning products and tools, although some of the more specialist equipment we may need to bring along might incur additional fees – but we will talk to you before we start to agree on any extra costs.
Items to Be Cleaned
End of Tenancy Checklist
   Carpet
   Light Shades
   Blinds
   Curtains
   Dishwashers
   Mirrors
   Work Services in Kitchen
   Shelves, tables, chairs, and book cases
   Wood Floors
   Windows
   Cooker Hood
   Woodworks and Skirting Boards
   Upholstery
   Light Fitting
   Microwave
   Door Knobs
Frequently Asked Questions
Do I have to meet the cleaners in person?
You can find somebody else to meet the professionals for you. Just grant this person full property access so that the cleaners can begin work as soon as they arrive.
How long will the service take?
It depends on the number of rooms and their condition, as well as if any additional services need to take place. A house move cleaning service is unlimited in time and the cleaners work until the job is done. They will need access to electricity and hot water to perform the service up to a standard.
Will I get my tenancy depost back after the end of tenancy clean?
At JC Clean Services we strive to provide the best end of tenancy cleaning in Reading and surrounding areas. That's why we always provide a 48-hour guarantee – to ensure that you will get your deposit back. This means that if the landlord is not happy we will re-clean the property free of charge within 48-hours. You can now extend the guaranteed period to 7 days for a fee of £19.
How many cleaners can I expect to arrive?
We will usually dispatch teams of either 2 or 3 cleaning experts, depending on the size of the property. The professional cleaners have all necessary equipment and detergents to start work right away.
Can you do after tenancy cleaning if I'm moving in?
We will gladly help you refresh your new home as long as you haven't left any personal belongings inside. You also need to have your fridge and freezer defrosted 24 hours in advance.
How does the video survey for the end of tenancy cleaning work?
A video survey can be done instead of a site viewing. It is suitable for 5+ bedroom properties, where an exact price quote can't be provided over the phone. It takes only a few minutes, usually done via WhatsApp or Facetime. A professional surveyor will consult you and you will be offered a personalised quote at the end of the video call.