Domestic Cleaners Reading
JC Cleaners specialises in regular and one-off domestic cleaning services in Reading. These services are a must-have for people on the go. We work with professional and trustworthy domestic cleaners for constant peace of mind.
JC Cleaners operate in Reading and surrounding areas like Newbury, Oxford Bracknell, Maidenhead, Slough, and Henley-on-Thames. Whether you need a cleaner for a one-off service or you are looking for a local regular domestic cleaner, JC Clean is the cleaning company to contact.
Our team is experienced, highly skillful and delivers quality work. You can leave your properties to us and be confident that they will be cleaned by experts, leaving you to get on with the more important things in your busy day. Some of the domestic cleaning services are listed below:
Regular domestic cleaning:
Weekly tasks like mopping, vacuuming, and dusting can take a lot of your time. With JC Cleaning Services' regular cleaning service, you can spend that time on something more pleasant. It's simple – share with us your household's cleaning needs and how frequently you want help with them. Based on that, we'll create a custom cleaning checklist, which your maid will strictly follow. Our regular cleaning service can be arranged on a weekly, bi-weekly, fortnightly or monthly basis – it depends on your needs.
One-off deep cleaning:
Maybe, you want to prepare your home for a special event and special guests, or maybe, you don't feel like spring cleaning? Whatever concerns you have, we've got you covered! Our one-off cleaning service is suitable for anyone who wants to get their home clean as fast as possible. From bathroom and kitchen cleaning to furniture polishing or cleaning your stained wall – the service is fully customizable and can be scheduled for any day of the week, including weekends or public holidays.
Specialist cleaning:
Besides regular and one-off domestic cleaning, we also offer other cleaning services that your home will benefit from. We work with professional cleaners, who can perform end-of-tenancy cleaning, carpet cleaning, upholstery cleaning, and curtains cleaning after builders cleaning, and even antiviral sanitization.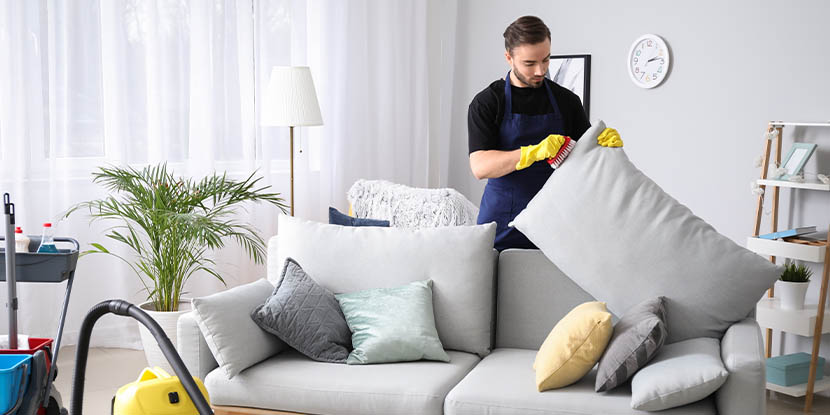 Why Choose JC Domestic Cleaning Reading?
   Our Reading domestic cleaners are serious when it comes to delivering quality service and awesome results.
   They are carefully checked and vetted during the hiring process and have undergone rigorous training to become fully competent in different methods of cleaning services.
   In addition, they are fully insured and come with references to assure you that your property is damage-free.
   95% of our house cleaners are trusted by our clients, giving them key holding privileges when they are out of their properties.
   We can also provide eco-friendly cleaning products on request.
Why JC Cleaning is Different from Other Domestic Cleaning Companies?
We have been in the cleaning business since 1991 and we are widely recognised as a leading company in the industry.
80% of our clients come from word-of-mouth referrals. We are consistent in delivering optimum results, therefore we have more repeat clients than our competitors.
We guarantee satisfaction – We look after each and every one of our clients with exceptional carefulness to guarantee absolute satisfaction at the same time as delivering outstanding work.
We will provide up-front work plans and costs so you always know what is happening with your cleaning schedule.
We value trust and reliability and we shall not perform any activity that will harm our integrity.
We are an honest and affordable cleaning provider.
We have a broad range of services for you to choose from; be it maintenance, emergency, and one-off cleaning or from general to specific cleaning needs.
For more information about our domestic cleaning services in Reading, please give us a call on 01183 247 394.
You can now book this service online. It's quick and easy.
Frequently Asked Questions
Do you provide a monthly cleaning?
We provide regular domestic cleaning services on a weekly or fortnightly basis. A service provided less often than a fortnight is regarded as a one-off deep cleaning service and we will be happy to quote you separately.
Who pays the cleaner, you or I?
You pay the cleaner the fee arranged by yourself and our office. In most cases, our cleaning agency fee will be paid by direct debit. Any tips or bonuses are paid directly to the cleaner.
How long will it take you to find me a cleaner?
We endeavour to meet all requests as soon as possible and we will respond to all queries within 24 hours. Time, location, and work-load all have an influence on the ability to introduce a cleaner but in most cases, we will have someone available within 3 days.
OK, I want to go ahead. What happens next?
How do you ensure reliability and honesty?
At the induction briefing, these qualities are stressed thoroughly and quality control procedures are in place to ensure that our professional cleaners operate in a reliable and honest manner. We also check the references that are provided to ensure that the cleaners have a proven employment record.
Can I specify the day the cleaner comes?
We make every effort to meet the requirements of prospective clients. In most cases, it is possible to specify the day your cleaner attends.
What kind of training do your cleaners get?
We interview the cleaners first, once they are hired, they go through training in our office. Once the training is done, they do need to pass a test, and if they do, they will be hired. Once they are hired, we would send them along with our supervisors just to be certain they are doing well. However, most of our regular clients have been with us for a very long time.