Commercial Kitchen Cleaners
Commercial kitchens present unique and tough cleaning challenges. At JC Clean we know that the owners and managers of these businesses need to keep the kitchen clean and hygienic and must comply with relevant legislation. This is in order to ensure the health and safety of their clients and staff members and avoid fines or even closure. We provide a range of cleaning services that will ensure a commercial kitchen is spotless and fully compliant.
Kitchen cleaning is essential for commercial premises in order to achieve the necessary degree of cleanliness. While kitchen staff must maintain basic hygiene, there are areas of a kitchen that are not as easy to reach and that over time accumulate fat, grease, burnt-on food, and other dirt. These include a range of items of equipment, fittings of various kinds including lights, and hard-to-reach surfaces such as ceilings and walls. A commercial kitchen cleaning by our team will leave floors, walls, lights, and other fittings, ceilings, and all the equipment thoroughly clean.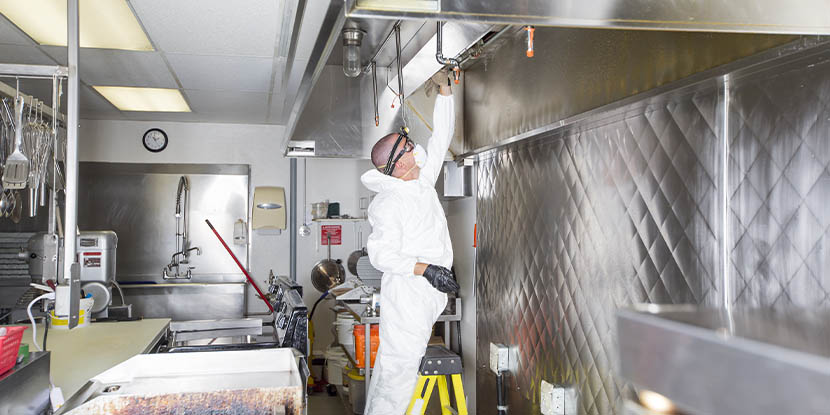 A fitting that requires regular, professional attention is the extractor fan or ventilation system. Cooking and washing activities in kitchens generate steam, carbon, and airborne grease. All of these condense or are deposited inside the extractor fans or ventilation system. If they are not removed effectively and regularly this accumulation poses a health and fire hazard. It can also result in a foul smell and even attract pests. The layer of grease and carbon must be removed from the system, including the ducts, by cleaners who know what they are doing so that surfaces and items in the kitchen are not contaminated in the process.
Commercial Kitchen Cleaning Contractors
The skilled and experienced commercial kitchen cleaners can also attend to added cleaning needs such as the maintenance of drains by keeping them clear while adhering to legislation in this regard. Similarly, they will clean out grease traps as these also harbour bacteria which pose a serious health risk to those working in the kitchen and consuming food and drink items produced in it. As with all other cleaning work in kitchens, we use food-safe and eco-friendly products, often specifically formulated for one aspect of kitchen hygiene and cleaning, and specialised equipment.
Call us today on 01183 247 394 to discuss your unique commercial kitchen cleaning needs. One of our friendly team members will arrange a site inspection and we will provide a no-obligation, free quote.