Disinfectant Misting Services in Reading
JC Cleaning Services is an established business providing cleaning services for commercial and industrial clients. In addition to the other cleaning services we now offer disinfectant misting treatment. This treatment is designed to clean premises as thoroughly as possible. In particular, in these uncertain times, investing in this type of deep cleaning helps to restore the confidence of employees and customers to visit a workplace.
We provide a 3 step process:
1st Step. Deep Clean. SARS-CoV-2 which is the name of the virus that lives on surfaces that become Covid-19 can live under dirt, dust grime, and grease. For our Fogging to be most effective a deep clean must be done. We use a toxin-free Certified Antiviral Detergent Agent to BS EN 1276. This is the European standard for the bactericidal activity of chemical sanitizers and detergents. To pass this standard, products must prove a germ kill rate of 99.99% within a 5 minute contact time. This is used to clean high touch areas such as desktops & all work surfaces, doorknobs & door handles, light switches & dimmer switches, computer monitors, keyboards, mouses, tablets & laptops, telephone equipment, all chair rests & arms, canteen tables, and chairs, sinks, taps and kitchen areas, toilets, including all surfaces, Water fountains and drinks dispensers and vending machines, lifts, their doors & buttons.
2nd Step is to use a hot dry steam clean method at a minimum temperature of 120°C which is proven to kill 99.9% of all germs and bacteria for areas like toilets and kitchens.
3rd step is to thoroughly disinfect the whole premises through Fogging using a toxin-free Certified Antiviral Disinfectant to BS EN 14476:2013+A12015 and BS EN 14476:2013+A12019. This is the European standard for the bactericidal activity of chemical disinfectants. To pass this standard, products must prove a germ kill rate of 99.9999% within a 15 minute contact time.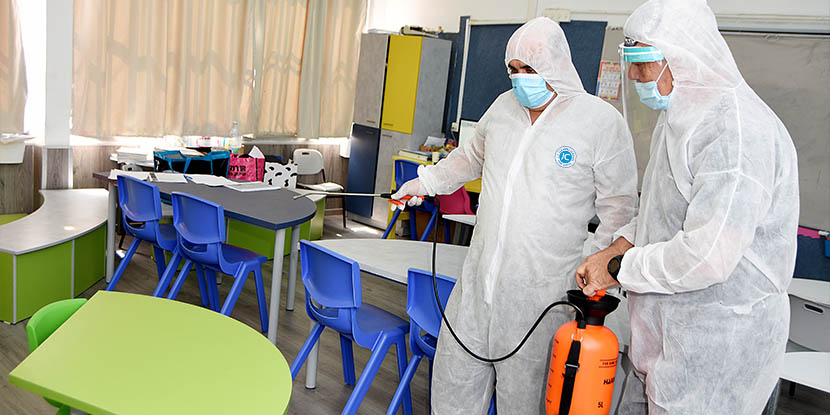 Where Do We Provide Disinfecting Misting Treatment?
Based in Reading, we cover a wide area including:
Newbury
Bracknell
Maidenhead
Slough
Henley-on-Thames and many other parts of Berkshire and Oxfordshire
If you're looking for ways to protect yourself, your employees, or your loved ones from bacteria and viruses, then you've come to the right place! JC Clean's innovative Antiviral Sanitisation/Disinfectant Misting Service is everything that you'll need to ensure the safety of your properties and their residents, in one neat package. In light of the recent COVID-19 developments, we've taken it upon ourselves to perfect the art of antiviral disinfection, in order to provide our clients with the safety and peace of mind that they deserve. Our domestic and commercial disinfection service is designed to eliminate up to 99.9999% of all viruses and bacteria, without the use of toxins, bleach, or other dangerous chemicals. Additionally, our antiviral rapid response teams have undergone specialized training and are fully certified, ensuring that they've got all the knowledge, tools, and expertise to keep your home safe and virus-free.
Frequently Asked Questions
Who will carry out the treatment?
This service is provided by professional sanitization technicians who use equipment and protection gear such as masks gloves, glasses, and even hazmat suits if needed.
Is the treatment effective against coronavirus (COVID-19)?
We use BS EN 1276 certified virucides. This means that they have been lab-tested against a wide variety of germs and proven to destroy 99.999% of pathogens found on surfaces.
Is this treatment safe for my workplace?
Yes. The treatment uses a certified antiviral product that eliminates bacteria, germs, and fungi. It is non-toxic and 100% safe for domestic use.
Do I need to prepare the property in advance?
Hoover affected areas and remove all pets, including any fish, from the property prior to the treatment and keep them away for around 60 minutes after the sanitization. Please, make sure that the technicians will have unobstructed access to the areas that need to be sanitized.