Curtain Cleaning Services in Reading
Your total curtain cleaning services solution in Reading, we are your ultimate one-stop-shop. Why? It is a dependable and professional cleaning company that gives priority to customer satisfaction. As such, you will not be disappointed with our performance and the results we can achieve by cleaning your curtains.
Types of Curtains and Drapes We Clean
Synthetic/Mixed fibre
If the items can withstand high temperature and moisture, then they will be submitted to the professional curtain cleaning method known as hot water extraction. The best part is that the technician uses specialised equipment that will clean the items momentarily so there is no need to remove them from the curtain rail.
Natural/Delicate fibre
In case your curtains or drapes are too delicate, then we can offer you a variety of water-free drapery cleaning options, such as the use of dry powder or special solvents.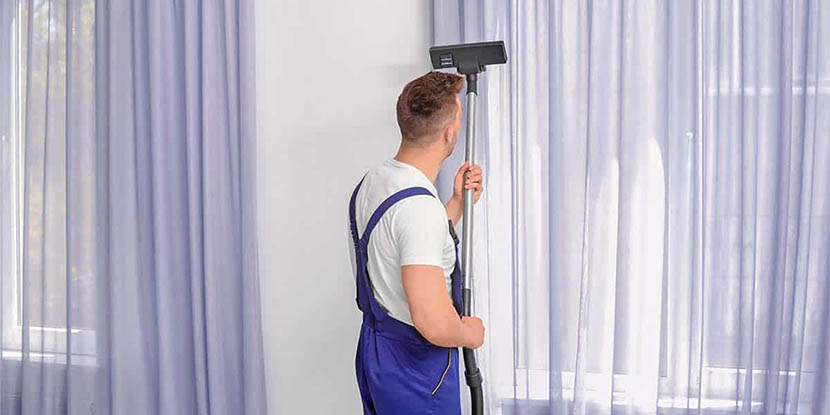 The Cleaning Methods We Use
Hot Water Extraction
It is often confused with "steam cleaning" but it's a bit different and way more effective. Here's how it works: a special machine is used to apply a mixture of hot water and a detergent to the fabric. This effectively loosens the accumulated dust from the items. And while this is happening, the nozzle almost simultaneously vacuums the fabric, extracting 95% of moisture along with all the detached unsanitary agents.
Dry Curtain Cleaning
Dry powder or a professional solution is applied to the item and carefully rubbed in with rotating brushes. This effectively loosens the accumulated dust and deodorises the piece. In the end, it is thoroughly vacuum cleaned to removes all substances and dirt.
Frequently Asked Questions
Can you remove stains?
Some household stains can come out easily, while others may require more intensive treatment. Thus, we can't guarantee complete removal before we see the item. However, if our methods don't work, then nothing will.
How long does it take for the curtains to dry out?
They will be just slightly damp after the service, so they'll dry out in a few hours.
What is your availability?
You can book this service for any day of the week from Monday to Friday. We are available from 09:00 – 17:30.
Do you clean delicate fabrics?
Yes, we can offer you dry cleaning solutions.
What about if my curtains are damaged?
This is very unlikely to happen – your technician will make sure to carefully examine them when he arrives to determine the most suitable cleaning method. On the other hand, this service is insured, so you will be fully compensated in case your curtains sustain damage.