Fire & Flood Damage Cleaning Service in Reading
JC Clean has over 29 years' worth of experience in dealing with water and flood damage in domestic and commercial properties. We've helped thousands of customers recover from a variety of types of clean-, grey- and black-water flood damage, using a combination of experience, state-of-the-art steam cleaning and drying technology, and commitment to client satisfaction to ensure that those affected are able to return their properties in no time.
Whether it is a house fire or commercial property, the damage caused by a fire can have a devastating impact on businesses and homes, as they can cause structural damage and leave premises uninhabitable for a long period of time. In addition to visual and physical damage, soot damage to the ceiling, walls, and furniture, fire damage can also have secondary effects that can lead to health problems as well as corrosion.
Therefore, it is essential that fire damage is assessed and cleaned up as soon it is safe to do so. Not only can it cause financial loss, but a delay or failure to do so can lead to further deterioration of the building and equipment.
We understand the devastating impact of fire damage, and offer a professional fire damage restoration and cleanup service, with a fast and empathetic response.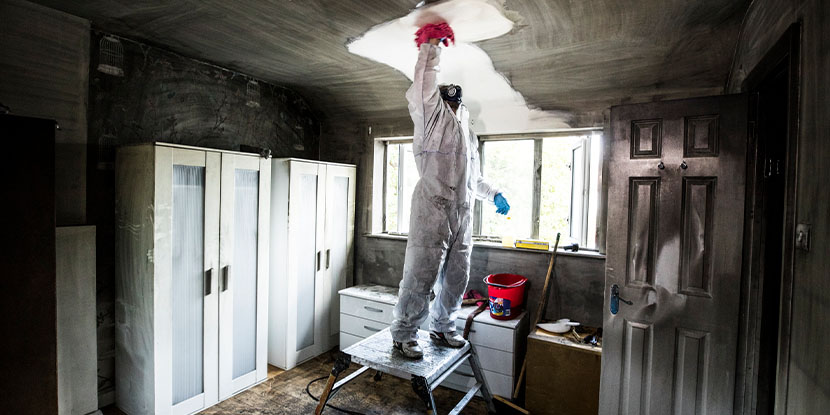 Why is Professional Fire Damage Cleanup Important?
When a fire occurs, porous surfaces expand allowing the soot and smoke odours to enter. Once the surface begins to cool, the pores will then close, trapping in the soot particles, smoke and odours. If this fire damage is not removed and cleaned correctly, when the air temperature rises, this soot and odour particles can be released through open pores on the surface, becoming a health risk to those in the room.
Smoke from fires often travels from areas differing in temperature and pressure, enabling soot damage and odours to spread throughout the building from where the initial fire began. Therefore, it is recommended to clean the surrounding area beyond the visual damage and debris, to help prevent and minimise further damage and associated health risks.
What is Included in our Fire & Flood Cleanup Service?
   A fast response
   Removal of debris and the visual aspects of fire damage
   Soot removal using our innovative fire restoration service
   Smoke damage cleanup
   Work carried out by our expert technicians
No water or fire damage cleanup job is too big or small for our team of certified technicians, and our solutions are tailored to meet the needs of any situation, so you'll never pay more than you have to for unnecessary services. Whether it's a commercial building devastated by river overflow or a simple bathroom flooded by a dripping tap, our focus is to get businesses back up and running and families back in their homes.
Frequently Asked Questions
What scale of flood can JC Clean deal with?
JC Clean has been providing flood restoration services to properties for 29 years. In that time we have dealt with water damage of all scales. Our continuous investment in modern, effective equipment and the best technician training enables us to deal professionally with large-scale flood damage. We aim to return your homes and businesses to normal as quickly as possible.
How does JC Clean clean up after flood or fire damage?
After a safety assessment, we guarantee identification of leaks using acoustic or thermal detection, endoscopy, water and salt analysis. Our experienced team will decide on the best course of action. The next stage utilises advanced water removal equipment followed by rapid drying technology and humidity control. Our eco-friendly steam cleaning means there is no need to use chemicals. The process is completed with hygiene testing and certification.
What are the costs of flood or fire restoration?
Every case is different. In some scenarios, we are able to estimate the costs over the phone but in large loss cases, a free site survey will be required. We are able to quickly advise on the best course of action to bring about the most effective recovery. Our state-of-the-art equipment ensures the remediation process will be thorough, effective, and as fast as possible, returning your home or business to normality. We have the technology and experience to complete the restoration in the best way to reduce costs and prevent secondary damage in the future.
What kinds of flood can JC clean-up?
JC Clean is equipped to clean up flood damage after all types of flood. We are able to deal with black water (containing fecal matter), grey water (containing other waste), and white water floods. Floods may be caused by heavy rainfall, stormwater, river flooding, coastal surges, leaking/burst pipes, or human error. The source of the ingress may not be visible which will require our specialist detection equipment.
Will my property or business be restored to normal after the flood restoration?
Yes! We aim to arrive within two hours of your call, this is vital to minimise avoidable secondary damage to the property. Our flood damage restoration process is fully documented and our work exceeds best practice as defined by British Standards PAS 64 [Guidance and standards] for drying flood-damaged buildings. Our environmental data logging processes ensure no further deterioration. All work is guaranteed and certificated.